So we're back... we celebrated our 1 year wedding anniversary, the paper anniversary on
Itsukushima
Island (aka:
Miyajima
or Shrine Island). That's the island famous for the sprawling
Itsukushima
Shrine, which most of my students are very quick to point out is a UNESCO World Heritage Site.
After a comfortable, if a bit expensive train trip from Yamaguchi to Miyajima station (
note: most Japanese local, regional and high-speed trains, airplane flights,

toll/express-ways are quite expensive by American standards

), we hopped right off and headed to get some famous Hiroshima Okonomiyaki. Having satisfied our grumbling bellies, we boarded the ferry to Miyajima immediately and called up our inn to let them know that we were arriving a bit early... and they offered to pick us up from the ferry port! Sweet!
Because we found very little in the way of English reviews of our inn, we are happy to strongly recommend that English-speaking travelers consider a stay at Kinsuikan, one particularly wonderful traditional Japanese inn (Ryokan -

旅館

). It's not cheap (but also certainly not the most expensive) and your nightly rate depends on what room you choose (garden view, ocean view), but the price is well worth the expense for the experience. Included in the price: a several-course fancy Japanese dinner served in our room, a Japanese breakfast, free access to their hot spring (onsen

), and traditional

yukata

(comfortable robes that you can wear when strolling around the island)

.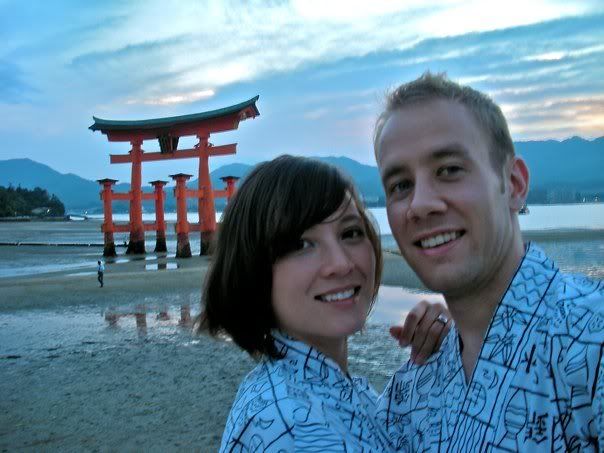 To our genuine relief, the staff spoke excellent English and were uber-polite in the quintessentially Japanese way. They even offered to pick us up from the dock and drive us straight to the inn even though we were several hours early and wouldn't be able to check in until much later. We headed out for sightseeing soon after arriving at the inn, and we were immediately thrilled by Miyajima's charms:
friendly (if a bit too hungry) deer wandering literally everywhere
beautiful shrines and temples, including the famous red "floating" torii

loads of surprisingly affordable shopping
oysters, oysters everywhere (which it turns out we don't like)
stone lanterns lining the sidewalks, lit shortly after sunset

Mia having a bit of fun with the local fauna.
Apparently there are many more yearly anniversary names, but don't ask me, check
wikipedia
!
I also posted some of my favorite shots on
my flickr site
.