After the madness that is Bangkok, we flew back to Phuket and took the 3-4 hour bus ride to Khao Sok. It's not on the coast, but rather is characterized by its rain forest, abundant wildlife and beautiful flora. We stayed 3 nights in the extremely cute
Our Jungle House
resort in one (well, two actually) of their open-air tree-houses on the river.
Our tree-house! No bats as one of the reviewers claimed. I was actually a bit disappointed :(
The only bummer was that the website claimed we would wake up to the call of the gibbons, but never heard any. We did however see a family of 7-8 monkeys playing on the cliff across the river from our balcony each afternoon.
Go monkey go!
Our feet still hurt from all the sightseeing in Bangkok, so we spent the first day relaxing in the river, eating delicious food from the outdoor hotel restaurant, and reading books from their small library (I gobbled up
The Lost Book of Salem
). Our first full day started with an early canoe trip on the river. Even though we weren't allowed to paddle ourselves, we saw plenty of kingfishers, a couple large snakes including a python sleeping in a tree, a family of monkeys, a few large lizards, and plenty of beautiful scenery.
A super enhanced picture of a kingfisher. These guys were hard to photograph

!
That afternoon was one of the highlights of our trip: an elephant ride! It was a leisurely hour and a half on the supremely cute Saonui (which means "Big Sister" in Thai). We got on the rather uncomfortable metal seat (why don't they use wicker seats?) from a platform, adjusted ourselves to the back-and-forth swaying on the elephant's giant plodding feet, and got a ride through the rain forest to a small waterfall where Saonui got a 15 minute break. On the way back we took turns sitting on her neck, which was far more comfortable and easy to balance than the seat. Legs tucked behind her warm ears, hands on her spiky haired head and bum resting easily on her fleshy neck, it was a lot of fun! After the ride we got to feed her some bananas which she greedily accepted before she went off for another ride. I'm happy to report that our
mahout
(elephant trainer) never hit Saonui. When she occasionally stopped, he simply said, "Ehh?" to her and she would giddy-up to her place behind the lead elephant.
All smiles on Saonui
Gimmeeeee!
The next day was quite a workout. Khao Sok is famous for the giant
Rafflesia flower
which is very rare and blooms only for 3-4 days before decaying entirely. Only a few places in the world have this flower, and Khao Sok with one of the largest known populations of it had only 11 known flowers this year (though this is significantly more than the 6 or so a year only 10 years ago). It's a parasitic flower with no roots, stems or leaves of its own, and seems to pollinate by air, which seems horribly difficult since there are so few and they are often situated rather far form each other. A bud is the size of a football, and a full-grown flower can reach 110 cm, though most are around 50-60 cm. Our hike was 2 km, 90% of which was UP a hill. Took about 1.5 hours. But the reward was several buds, a dead flower, a half open bud, and a gorgeous 55 cm flower. (Just a note: We were extremely careful about not touching the flower or it's host).
Yum.
Don't worry, it's too stinky to take a bite.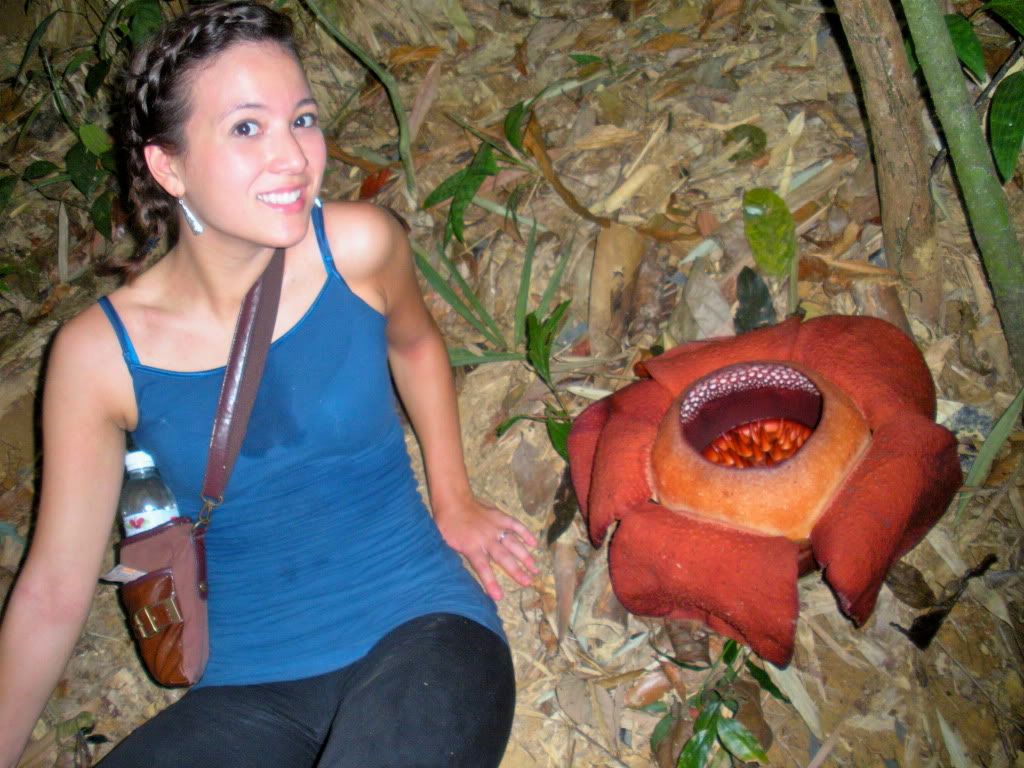 Sweaty and happy with the Rafflesia
If you ever get a chance, visit Khao Sok! It's gorgeous.

Travel tip: If you go to Khao Sok from Phuket Airport, take the airport bus south a little bit and tell the driver you want to get off at the bus stop on highway 402 (main road) to catch a bus to Khao Sok headed for Surat Thani. This saves you an hour of traveling in the wrong direction to get to the main bus station in Phuket Town, only to drive another hour back to where you started (near the airport). The bus stop on 402 is next to a Wat guarded by two gaudily painted statues that are nearly as tall as the pedestrian overpass next to them. We waited 45 minutes for our bus towards Surat Thani, which eventually dropped us off for another bus to take us to Khao Sok, and it cost maybe $8-9 total per person.
Bird of Paradise growing wild